Kino
Nominácie na prestížne filmové ocenenia Oscar 2015 sú vonku!
A máme to konečne tu! Prinášame prehľad nominovaných v 12 kategóriách 88. ročníka cien americkej Akadémie filmových umení a vied, ako ho dnes vyhlásili prezidentka Akadémie Cheryl Boone Isaacs a režiséri Guillermo del Toro, John Krasinski a Ang Lee, vo všetkých  24 kategóriách. Slávnostné udeľovanie prestížnych cien sa bude konať 28. februára v hollywoodskom Dolby Theatre at Hollywood & Highland Center, ktoré bude uvádzať komik Chris Rock.
Pre zaujímavosť, dvanásť nominácií má na konte snímka The Revenant, desať nominácií získala snímka Mad Max: Fury Road, sedem nominácií si vybojovala snímka The Martian  a po šesť získali snímky Spotlight a Carol. S piatimi nomináciami sa umiestnil v závese filmy Bridge Of Spies ako aj film The Big Short. Prekvapením je aj to, že najnovší film Quentina Tarantina The Hateful Eight má len 3 nominácie.
Celkový prehľad: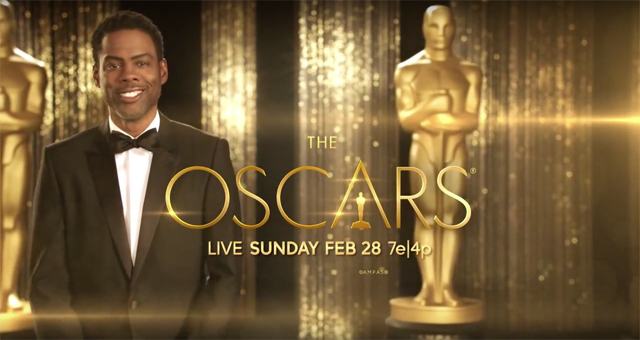 Najlepší film (nominovaní sú producenti): 
The Big Short
Bridge of Spies
Brooklyn
Mad Max: Fury Road
The Martian
The Revenant
Room
Spotlight
Najlepší mužský herecký výkon v hlavnej úlohe:
Bryan Cranston – Trumbo
Matt Damon – The Martian
Leonardo DiCaprio – The Revenant
Michael Fassbender – Steve Jobs
Eddie Redmayne – The Danish Girl
Najlepší mužský herecký výkon vo vedľajšej úlohe:
Christian Bale – The Big Short
Tom Hardy – The Revenant
Mark Ruffalo – Spotlight
Mark Rylance – Bridge of Spies
Sylvester Stallone – Creed
Najlepší ženský herecký výkon v hlavnej úlohe:
Cate Blanchett – Carol
Brie Larson – Room
Jennifer Lawrence – Joy
Charlotte Rampling – 45 Years
Saoirse Ronan – Brooklyn
Najlepší ženský herecký výkon vo vedľajšej úlohe:
Saoirse Ronan – Brooklyn
 Alicia Vikander – The Danish Girl
 Kate Winslet – Steve Jobs
 Jennifer Jason Leigh – The Hateful Eight
 Rooney Mara –  Carol
 Rachel McAdams – Spotlight
Animovaný film:
Anomalisa
Boy and the World
Inside Out
Shaun the Sheep Movie
When Marnie Was There
Réžia:
Adam McKay – The Big Short
George Miller – Mad Max
Alejandro Gonzalez Inarritu – The Revenant
Tom McCarthy – Spotlight
Lenny Abrahamson – Room
Najlepší cudzojazyčný film:
A War (Dánsko)
Embrace of the Serpent (Kolumbia)
Mustang (Francúzko)
Son of Saul (Maďarsko)
Theeb (Jordánsko)
Adaptovaný scenár:
Adam McKay, Charles Randolph – The Big Short
Drew Goddard – The Martian
Emma Donoghue – Room
Nick Hornby – Brooklyn
Phyllis Nagy – Carol
Pôvodný scenár:
Matt Charman, Joel Coen, Ethan Coen – Bridge of Spies
Alex Garland – Ex Machina
Ronnie del Carmen, Pete Docter, Meg LeFauve, Josh Cooley – Inside Out
Tom McCarthy, Josh Singer – Spotlight
S. Leigh Savidge, Alan Wenkus, Andrea Berloff, Jonathan Herman – Straight Outta Compton
Najlepšia pôvodná filmová pieseň:
Earned It (Fifty Shades of Grey) – Hudba a slova: Abel Tesfaye, Ahmad Balshe, Jason Daheala Quenneville a Stephan Moccio
Manta Ray (Racing Extinction) – Hudba: J. Ralph; Slova: Antony Hegarty
Simple Song #3 (Youth) – Hudba a slova: David Lang
Til It Happens to You (The Hunting Ground) – Hudba a slova: Diane Warren a Lady Gaga
Writing's on the Wall (Spectre) – Hudba a slova: Jimmy Napes a Sam Smith
Najlepšia pôvodná filmová hudba:
Thomas Newman – Bridge of Spies
Carter Burwell – Carol
Ennio Morricone – The Hateful Eight
Jóhann Jóhannsson – Sicario
John Williams – Star Wars
Kamera:
The Revenant – Emmanuel Lubezki
Sicario – Roger Deakins
Carol – Edward Lachman
Mad Max: Fury Road – John Seale
The Hateful Eight – Robert Richardson
Strih:
The Big Short – Hank Corwin
Mad Max: Fury Road – Margaret Sixel
The Revenant – Stephen Mirrione
Spotlight – Tom McArdle
Star Wars: The Force Awakens – Maryann Brandon and Mary Jo Markey
Výprava: 
Bridge of Spies – Adam Stockhausen (výprava), Rena DeAngelo a Bernhard Henrich (dekorace)
The Danish Girl – Eve Stewart (výprava), Michael Standish (dekorace)
Mad Max: Fury Road – Colin Gibson (výprava), Lisa Thompson (dekorace)
The Martian – Arthur Max (výprava), Celia Bobak (dekorace)
The Revenant – Jack Fisk (výprava), Hamish Purdy (dekorace)
Vizuálne efekty:
Ex Machina – Andrew Whitehurst, Paul Norris, Mark Ardington a Sara Bennett
Mad Max: Fury Road Andrew Jackson, Tom Wood, Dan Oliver a Andy Williams
The Martian – Richard Stammers, Anders Langlands, Chris Lawrence a Steven Warner
The Revenant – Rich McBride, Matthew Shumway, Jason Smith anCameron Waldbauer
Star Wars: The Force Awakens – Roger Guyett, Patrick Tubach, Neal Scanlan a Chris Corbould
Najlepšie masky:
Mad Max: Fury Road – Lesley Vanderwalt, Elka Wardega a Damian Martin
The 100-Year-Old Man Who Climbed out the Window and Disappeared – Love Larson a Eva von Bahr
The Revenant – Siân Grigg, Duncan Jarman a Robert Pandini
Najlepší zvuk
Bridge of Spies – Andy Nelson, Gary Rydstrom a Drew Kunin
Mad Max: Fury Road – Chris Jenkins, Gregg Rudloff a Ben Osmo
The Martian – Paul Massey, Mark Taylor a Mac Ruth
The Revenant – Jon Taylor, Frank A. Montaño, Randy Thom a Chris Duesterdiek
Star Wars: The Force Awakens – Andy Nelson, Christopher Scarabosio a Stuart Wilson
Najlepší strih zvuku:
Mad Max: Fury Road – Mark Mangini a David White
The Martian – Oliver Tarney
The Revenant – Martin Hernandez a Lon Bender
Sicario – Alan Robert Murray
Star Wars: The Force Awakens – Matthew Wood a David Acord
Najlepší celovečerný dokument:
Amy
The Look of Silence
Cartel Land
What Happened Miss Simone?
Winter's on Fire: Ukraine's Fight for Freedom
Najlepší krátký dokument:
Claude Lanzmann: Spectres of the Shoah
A Girl in the River: The Price of Forgiveness
Last Day of Freedom
Body Team 12
Chau
Najlepší krátký animovaný film:
Bear Story (Historia de un Oso)
Prologue
Sanjay's Super Team
We Can't Live Without Cosmos
World of Tomorrow
Najlepší krátky hraný film:
Ave Maria
Day One
Everything Will Be Okay (Alles Wird Gut)
Shok
Stutterer
Čestného Oscara dostanú:
Spike Lee
Gena Rowlands
Debbie Reynolds